Home » Projects »
A track record of successful London property projects
Buildings need constant repair but even the smallest jobs involve a number of skills which not every company possesses. NJC Services were approached by Bunn & Co on behalf of the Freeholders to carry out this house renovation project because of our track record of successful outcomes on other building issues in the London area.
Small property repairs with complications
The client wanted their small balcony repaired – a seemingly small property repair.
However, alongside being in a London Conservation area – requiring a planning application, the balcony was defective for a number of reasons including:
It was old!
There was a poor connection into the wall
There were no reinforcing bars
And there were no support brackets under it.
The balcony was therefore potentially dangerous!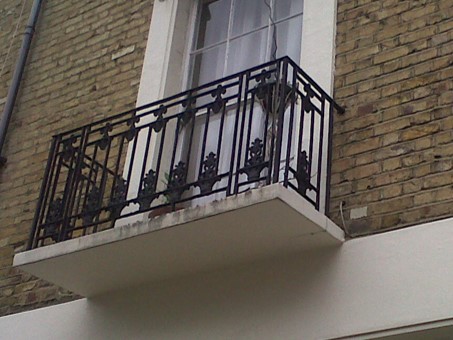 A full service property repair service
The advice included:
Measured architectural plans and elevations for the conservation area planning application
Design of new bespoke balcony brackets
Structural advice on the method for rebuilding the balcony including the specification for the brackets which had to be pre-made
Project management of the work (management of works)
Once the planning application was successful, NJC Services produced a simple package for pricing by a suitable contractor. Once approved by the client, we oversaw the works on a regular basis and agreed the variations and costs etc.
Even small projects can throw up complications
Another small complication was that the original cast iron railings had rusted heavily and had to be temporarily taken away for refurbishment. Once repaired and treated the cast iron railing were returned to site and reconnected to the external wall and the balcony.
If you think a professional is expensive, wait until your hire an amateur.
A professionally managed property repair always results in a better outcome
The balcony slab, railings and the new brackets have now been secure for a number of years and blend in really well with the surrounding housing stock and adjacent balconies. A good result and a happy client!
Client: Bunn & Co on behalf of the Freeholders